Doing The FOD Walk
news re-post courtesy of TSgt. Dan Heaton
127th Wing Public Affairs: http://www.127wg.ang.af.mil/news/story.asp?id=123295919
3/29/2012 - SELFRIDGE AIR NATIONAL GUARD BASE, Mich. -- Rocks. Pebbles. A forgotten tool. Even sticks and grass.
All of it can cause damage to the high-precision engines and other systems in aircraft. That's why the 127th Wing at Selfridge Air National Guard Base is in a constant battle to eliminate such objects from the flight line on the base.
Known in the aviation community as "FOD" or "foreign-object damage," it is among the top causes of problems for aircraft.
"Eliminating FOD saves lives and saves aircraft," said Major Nick Hebekeuser, chief of safety and a KC-135 Stratotanker pilot with the 127th Wing. "Our Airmen are very aggressive in controlling FOD and do a good job to eliminate the danger."
The National Aerospace FOD Prevention agency estimates that, counting both military and civilian aircraft, FOD costs the global aerospace industry about $4 billion annually.
FOD control takes several forms at Selfridge and at other military air bases. Before driving onto the flight line areas of the base, the tires of ground vehicles are always examined and small rocks or pebbles in the treads of the tires are removed. The wing also operates a street sweeper type of machine that makes regular trips along all areas where aircraft may taxi or park. Airmen working in the maintenance sections of the wing also perform routine FOD Walks, in which dozens of Airmen line up and walk along the flight line, picking up any foreign objects they see. Aircraft crew chiefs perform inventories of all their tools while working on their aircraft, to ensure that nothing was left behind that could cause damage. The dangers of FOD, and the relatively simple steps that can be taken to prevent it, is taught to all Air Force personnel from the earliest days of their career.
Small rocks and pebbles on the flight line or along its edges can also lead to another challenge for aircraft - bird strikes.
"There are various types of birds that like to ingest small rocks to use in their digestion," Hebekeuser explained.
FOD has been challenge since the earliest days of flight. Nicks in propellers, tire damage and tears in the fabric that covered the wings of early aircraft often presented challenges. The FOD challenge was really ramped up, however, with the arrival of the jet engine in the late 1940s and 1950s. Jet engines create a tremendous suction as they operate. Most jet engine aircraft have a warning/safety zone during operation of at least 25 feet around the air intake area at the front of the engine. Even a small pebble sucked into an engine can cause significant damage, Hebekeuser said.
FOD can be a particular challenge for the KC-135 aircraft operated at Selfridge. The bottom edge of that aircraft's engines is only about a foot and a half off the ground.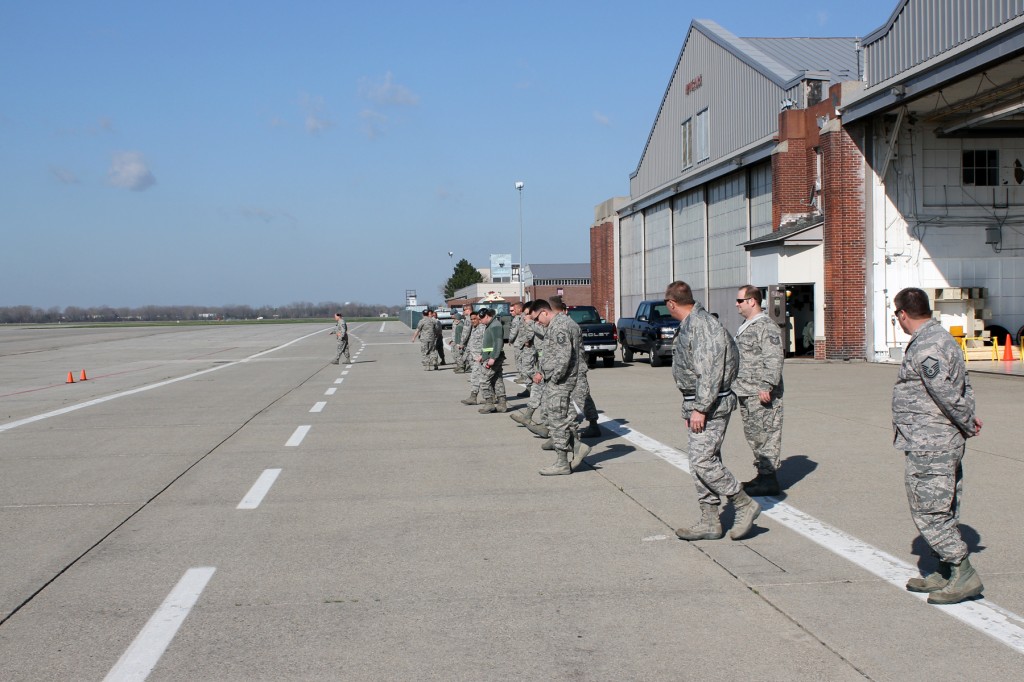 Airmen from the 127th Maintenance Group perform a "FOD Walk" at Selfridge Air National Guard Base, Mich., March 28, 2012. "FOD," or foreign object damage, is a hazard for aircraft and other precision equipment. Suction caused by the air intake of jet engines can pull objects into the aircraft and damage the engine. All Airmen who work on or around aircraft are taught from the very beginning of their aircraft career to be on the lookout for FOD. During a FOD Walk, Airmen spread out and walk along the air ramp, picking up any loose objects they see, such as small rocks, which can be transported onto the ramp in the tire treads of vehicles. (U.S. Air Force photo by TSgt. Dan Heaton)