IATA safety audit passes Gowair
Posted by fodsite at May 7th, 2018
Spanish airline Gowair passed the IATA Operational Safety Audit (IOSA).

by Harro Ranter
Gowair commenced operations in 2017. It operates a single Airbus A320 on charter flights in Europe and for ACMI leases to other airlines.
The IOSA programme is an evaluation system designed to assess the operational management and control systems of an airline. IOSA uses internationally recognized quality audit principles and is designed to conduct audits in a standardized and consistent manner. It was created in 2003 by IATA. All IATA members are IOSA registered and must remain registered to maintain IATA membership.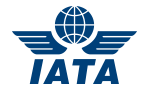 IATA and there Vision:
To be the force for value creation and innovation driving a safe, secure and profitable air transport industry that sustainably connects and enriches our world.
IATA and there Mission:
Representing the airline industry
We improve understanding of the air transport industry among decision makers and increase awareness of the benefits that aviation brings to national and global economies. Advocating for the interests of airlines across the globe, we challenge unreasonable rules and charges, hold regulators and governments to account, and strive for sensible regulation.
Leading the airline industry
For over 70 years, we have developed global commercial standards upon which the air transport industry is built. Our aim is to assist airlines by simplifying processes and increasing passenger convenience while reducing costs and improving efficiency.
Serving the airline industry
We help airlines to operate safely, securely, efficiently, and economically under clearly defined rules. Professional support is provided to all industry stakeholders with a wide range of products and expert services.
For More information About IATA Please visit there website:
IATA.org
Category: Aviation News, FOD News, FOD Prevention and Information