Online FOD Training Certification Course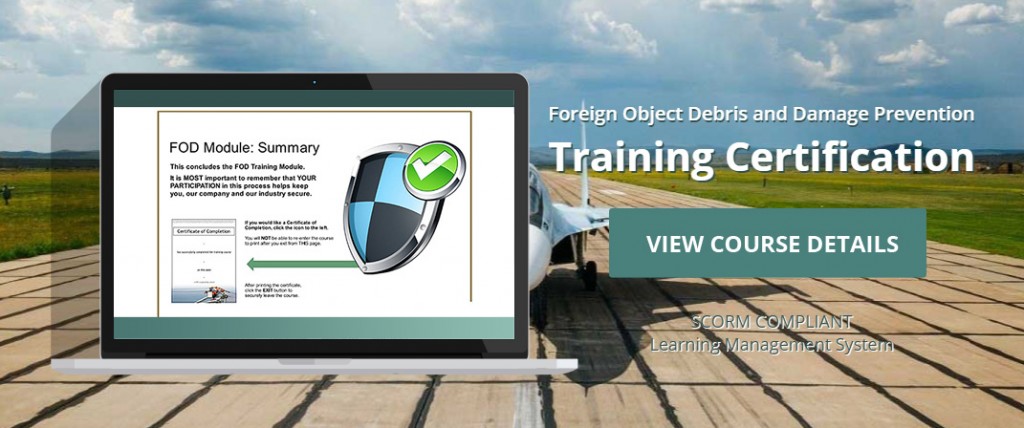 Today is a very good day for the FOD Prevention community as we announce a whole new partner in the ever going battle to rid our industry of FOD. An ONLINE FOD TRAINING COURSE with Quizzicle!
Finally there is a great way to learn all about foreign object debris and foreign object damage and how to prevent it in the work place. Quizzicle's aim is to teach all the areas of FOD and FOD Prevention and offers an accredited certification and the end of the course.
Companies can train individual students (employees) or their inter work force!
What this FOD TRAINING COURSE provides:
Definitions
Debris (defined)
Damage (defined)
Control Systems
Area Types
FOD
Human Cost of FOD
FOD Prevention
FOD Detection
FOD Removal
FOD Evaluation
FOD Documentation
FOD Classification
Observation
Manual Observation
Electronic Observation
Tech Assisted Observation
Removal
Manual Removal
Mechanized Removal
Non-Mechanized Removal
Detection
Visual Detection
Electronic Detection
Automated Detection
Operation Areas
Aircraft Operations Areas
Aircraft Servicing Areas
Apron Areas
Air Cargo Operations
Maintenance Areas
10 Question Assessment Certificate of Completion
You can try the Online Course Demo here at fodtraining.com and see the benefits for yourself.
FODprevention.com believes this is something the industry has been in great need of for a very long time and proudly supports Quizzicle's efforts to create new and exciting FOD Training courses in the future.
FOD Training Certification Course
Click To Tweet