Story courtesy of ipolitics.ca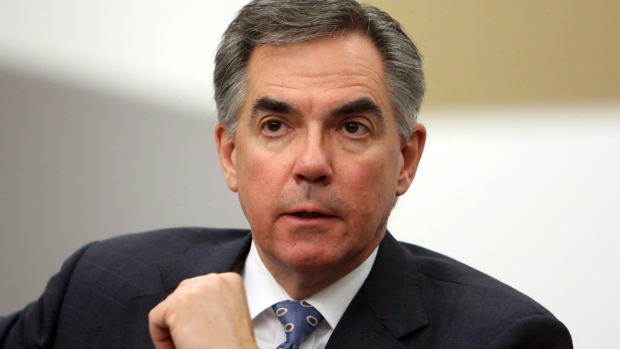 Former Alberta premier Jim Prentice has died in a plane crash in B.C., according to sources.
The crash, which killed all four people on board, happened near Kelowna, B.C. at 9:40 p.m. local time Thursday night. The small plane was en route to Calgary.
Neither the executive director of the Alberta Progressive Conservative Party nor party leader Ric McIver have confirmed Prentice was on the plane. The B.C. coroner's office has not yet publicly named the four people on board.
Alberta Premier Rachel Notley has cancelled a planned trip to Red Deer today, and is planning a media conference for later today.
Prentice, 60, was on board a twin-engine Cessna Citation that took off from Kelowna bound for Springbank Airport near Calgary.
The Kelowna Daily Courier reports that RCMP detachments were alerted by the Surrey Air Traffic Control Centre at 10:07 p.m. that they had lost contact with the small jet shortly after its takeoff from Kelowna International Airport.
"Several resources were immediately dispatched to the jet's last known location," said Moskaluk. Transportation Safety Board investigators are on their way to the scene.
Prentice resigned from federal politics in 2010 after stints as minister of Environment, Industry and Indian Affairs and Northern Development, and took a job as vice-chairman at the Canadian Imperial Bank of Commerce.
After Alberta Premier Alison Redford resigned in 2014 over an expense scandal, Progressive Conservative Party officials began courting Prentice to step in as leader of the party and premier of Alberta.
The Progressive Conservatives lost the 2015 provincial election to Notley's New Democrats and Prentice resigned as party leader, taking a job with the Washington-based Canada Institute at the Wilson Center in February 2016, where he worked as a visiting fellow.
According to the Center, Prentice was working on a book about energy and environmental issues that was set to be published in late 2016
Prentice leaves behind a wife, Karen Prentice, three children and two grandchildren.
In June 2016, Prentice joined the private equity firm Warburg Pincus as an energy analyst.
Notley's own father, Grant Notley, was killed in a similar crash on October 18, 1984, when a Piper Navajo Chieftain in which he was a passenger hit trees and crashed into the ground, killing him and five others.
Parliamentarians quickly began tweeting their condolences upon hearing confirmation of Prentice's death.
Jim Prentice dies in plane crash near Kelowna, B.C.
Click To Tweet